Make sure you visit my page "National Debt."
http://bureaucountydems.blogspot.com/p/national-debt.html
The above graph is yet another look at the fiscal insanity of Republican economic policy. It is no wonder that Democratic Administrations outperform Republican administrations on EVERY economic standard.

Only two things grow when a Republican is in the White House, unemployment and the National Debt. And those are the indisputable facts of the last 70 years.
AND WHAT IS PRESIDENT OBAMA"S ECONOMIC PLAN LEADING TO?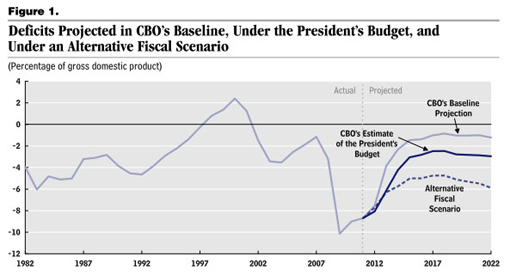 source:
http://motherjones.com/kevin-drum/2012/03/balancing-budget-obama-way
The above graph charts the national debt to GPD ratio, the only true way to compare debt across the years and from one president to another. The closer to zero the closer to a balanced budget we get.
Take special note that the last time a budget was in surplus was under Wild Bill Clinton. President Obama, climbing out of a far deeper economic hole, is repeating the same pattern as President Clinton, the most fiscally successful president of the last 60 years.
This is yet another reminder if we want to avoid the pain of economic downturns we need to quit electing the stumblebums that cause them. And that would be Republicans.
See:
http://bureaucountydems.blogspot.com/p/history-of-recessions.html